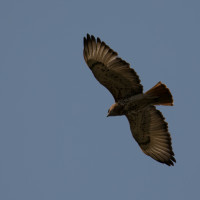 10 Beautiful Birds of Prey Sighted in Uganda
By Yvonne de Jong & Tom Butynski Posted on the National Geographic Explorers Journal on June 17, 2015
Yvonne de Jong and Thomas Butynski are exploring northern Uganda to study primates, but that's not all they've discovered. See what they found when they lifted their eyes to the skies.
Beaudouin's Snake-eagle
During our survey of primates in February 2015, we were also on the look-out for raptors, as that is the time of year when many migrant species are wintering in East Africa.
Tags: Beaudouin's snake-eagle, bush fire, raptor, Red-necked Buzzard, Uganda
Trackback from your site.