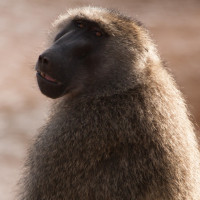 Secret to Olive Baboon Survival in a Barren Desert
By Yvonne de Jong & Tom Butynski
Posted on the National Geographic Explorers Journal on April 9, 2013
We have trained eyes for detecting primates, but it took a little while for us to realize that we were looking at a group of olive baboons (scientific name: Papio anubis, Kiswahili name: nyani). The setting here, between the eastern shore of Lake Turkana and the western edge of the Chalbi Desert, is new to us. On a distant rocky hill, surrounded by expansive black lava plains with a sparse cover of  thorny acacia (Acacia species) and commiphora (Commiphora species) bush and badly damaged toothbrush trees (Salvadora persica), a group of olive baboons is resting…all eyes fixed on us…..
Read the whole post on the National Geographic Explorers Journal ….
Trackback from your site.